The 20 Best TV Shows on Apple TV Plus Right Now: April 2023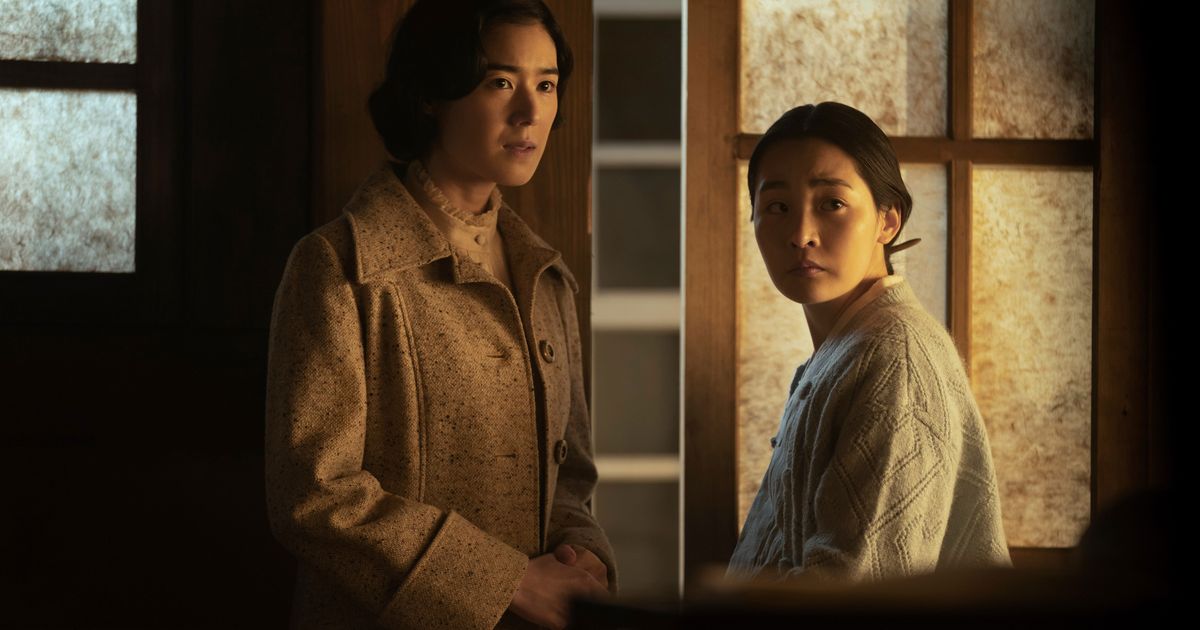 Pachinko.
Photo: Juhan Noh
In its short life, Apple TV+ has already become known as a home for lavish, expensive miniseries, dramas, and original comedies. It has had massive success with award winners like Ted Lasso, The Morning Show, and Black Bird, but the streamer is still kind of figuring out its personality and brand. It seems as if it has a new offering every week, trying to catch the attention of the streaming zeitgeist. It's getting hard to filter through its massive catalogue to find the best stuff. And that's where we come in. These are the 20 best shows currently on Apple TV+, a list we'll update regularly as it releases new programs worth your time.
Year: 2022–present
Length: 1 season, 8 episodes
Creator: Soo Hugh
This might be the most visually striking show you're not watching. The masterful Kogonada (After Yang) and Justin Chon (Blue Bayou) direct a generation-spanning epic about a Korean woman (played by Oscar winner Youn Yuh-jung of Minari in the present-day material) who had to fight to start a life during the Japanese occupation of her youth. It's a moving, unpredictable drama that looks like nothing else on TV.
Year: 2022–present
Length: 1 season, 8 episodes
Creator: Christopher Miller
One of the geniuses behind The LEGO Movie and 21 Jump Street, and a producer on Spider-Man: Into the Spider-verse, Christopher Miller is one of the smartest content creators currently in Hollywood. His hysterical murder mystery is like nothing else on television, taking an Agatha Christie plot and filtering it through some of the funniest voices in comedy. Tiffany Haddish plays a detective investigating a murder that is then seen through the eyes of the people attending the party at which it happened, including characters played by Sam Richardson, Ben Schwartz, Ilana Glazer, Dave Franco, Zoe Chao, and Ike Barinholtz.
Year: 2022
Length: 1 season, 6 episodes
Creator: Dennis Lehane
Developed by the writer of Shutter Island and Mystic River, Black Bird is the true story of a criminal named Jimmy Keene (Taron Egerton) who was behind bars when he was asked by the authorities to inform on someone significantly worse. Keene was in a facility with a monster named Larry Hall (a chilling Paul Walter Hauser), a killer who the cops suspected of committing multiple murders. They told Keene that he could get an early release if he could get the monster to talk. Chilling and moving, this is a phenomenal miniseries.
Year: 2020–present
Length: 3 seasons, 39 episodes
Creators: Josh Gad, Loren Bouchard, Nora Smith
Do you love Bob's Burgers? Who doesn't, really? The creators of that show employ a similar sense of humor and visual style in this animated gem that centers on a family living in Central Park in New York City. More of a musical than Bob's, Central Park is a funny, sharp family comedy with great voice work by Daveed Diggs, Kathryn Hahn, Titus Burgess, Josh Gad, Leslie Odom Jr., and an unforgettable Stanley Tucci.
Year: 2019-2021
Length: 3 seasons, 30 episodes
Creator: Alena Smith
When the story of Apple TV+ is written, this show will be one of the founding fathers, a program that debuted back in 2019 and helped define the company's early brand. Hailee Steinfeld is phenomenal as the title character, who happens to the legendary Emily Dickinson. A coming-of-age variation on a legendary author shouldn't be this effective, but the writing and performances are sharp and funny through its entire three-season run.
Year: 2022
Length: 1 season, 8 episodes
Creators: John Ridley, Carlton Cuse
The Oscar-winning writer of 12 Years a Slave and the co-creator of Lost collaborated on this harrowing miniseries from summer 2022 that allows viewers to see the trauma and horror of Hurricane Katrina through the staff of Memorial Hospital, in the heart of New Orleans. Vera Farmiga, Cherry Jones, Adepero Oduye, Michael Gaston, and more star in a show that asks challenging questions about the choices that were made by the city and the staff on that day.
Year: 2019–present
Length: 3 seasons, 30 episodes
Creators: Ronald D. Moore, Matt Wolpert, Ben Nedivi
One of the geniuses behind the reboot of Battlestar Galactica collaborated on a very different kind of science fiction, a character-driven drama that imagines life in the United States in an alternate reality in which the Soviet Union landed on the moon before the United States. That's just the setup for a show that has gone so many unexpected places since, incorporating figures from history like Neil Armstrong, Sally Ride, and even Wernher von Braun into a show that defies expectations. History is going to be very kind to this drama.
Year: 2022
Length: 1 season, 6 episodes
Creator: Walter Mosley
Samuel L. Jackson has been so attached to blockbuster franchises recently that it takes a drama like Ptolemy Gray to remind people of his undeniable acting chops. In a sort of modern Flowers for Algernon, Jackson plays a 91-year-old man whose dementia is temporarily reversed by a new medical procedure so he can solve the murder of his nephew. It may sound cheesy, but Jackson sells the emotion of the piece, ably supported by the great Dominique Fishback of Judas and the Black Messiah and Swarm.
Year: 2020–present
Length: 2 seasons, 16 episodes
Creators: Lee Eisenberg, Emily V. Gordon, Kumail Nanjiani
The anthology format is largely reserved for horror storytelling, so it's nice to see it employed for drama and comedy in this excellent compendium of stories about what it means to be an immigrant in America in the 2020s. The scope of the dramedy is what's so impressive, telling so many different kinds of stories so one can get a greater appreciation of the tapestry that (in ideal circumstances) makes up this country.
Year: 2019–present
Length: 2 seasons, 20 episodes
Creator: Jay Carson
This show was the first sign that Apple was very willing to open its wallet, attracting multiple award winners to one of its launching-day dramas about a morning news show shaken not only by Me Too allegations against one of its anchors but the infighting that goes with this kind of operation in the 2020s. It mostly paid off. The Morning Show hasn't quite found a big place in the culture, but everyone agrees that Billy Crudup's Emmy-winning work is phenomenal, and it undeniably helped Apple develop its brand as a home for big names and big budgets.
Year: 2021–2023
Length: 2 seasons, 17 episodes
Creator: Neil Cross
Children of the '80s may remember the Harrison Ford and River Phoenix drama about a man who takes his family way off the grid, but this two-season series adapts the 1981 novel by Paul Theroux more faithfully. Justin Theroux (the source author's nephew) stars as Allie Fox, a man hunted by the government who is forced to take his family on a dangerous journey through Mexico in the first season and into the heart of the jungle in the second. The sophomore season is kind of a mess (and led to the show's cancellation), but the first is better than you've heard.
Year: 2020–present
Length: 3 seasons, 30 episodes
Creators: Charlie Day, Megan Ganz, Rob McElhenney
One of the most beloved comedies on any streaming service, this one stars Rob McElhenney (Mac on It's Always Sunny in Philadelphia) as the creative director of a popular MMORPG called Mythic Quest: Raven's Banquet. A workplace comedy set at a game developer, it's a consistently funny show thanks in no small part to a fantastic ensemble that includes Danny Pudi, David Hornsby, and Charlotte Nicdao.
Year: 2021–present
Length: 2 seasons, 20 episodes
Creator: Jon Stewart
Jon Stewart is having a bit of a moment in 2023 as clips from his Apple TV+ show continue to go viral on social media. There's something satisfying about the way the former Daily Show host sets up hypocritical politicians in a way that forces them to fall on their face. His current show focuses more on one subject per episode than his Comedy Central hit, but it should appeal to largely the same audience.
Year: 2021–present
Length: 2 seasons, 12 episodes
Creators: Cinco Paul, Ken Daurio
Keegan-Michael Key and Cecily Strong star in this clever comedy about a couple who travel to a magical land inspired by hit musicals. The first season focused on the era of The Music Man, Carousel, and Brigadoon, but the second has shifted to the '70s and '80s to satirize Chicago, Cabaret, Hair, and Sweeney Todd. All in all, it's a smart, funny show with great musical performances from Broadway legends like Alan Cumming, Kristen Chenoweth, and many more.
Year: 2019–2023
Length: 4 seasons, 40 episodes
Creator: Tony Basgallop
M. Night Shyamalan produced and sometimes directed the four seasons of this deeply underrated thriller, one of the most stylish and fascinating shows of its era. Lauren Ambrose stars as a Philadelphia reporter who has been treating a baby doll like her actual child. When she hires a nanny to take care of the toy, her husband (Toby Kebbell) is startled when the doll comes to life. And that's just the beginning of the chaos in a show that looks filmic in ways that most television never bothers to attempt.
Year: 2022–present
Length: 1 season, 9 episodes
Creator: Dan Erickson
One of the most acclaimed new shows of the 2020s, Severance takes a clever concept and runs full speed with it into unexpected places. Adam Scott stars as an employee at a company that uses a revolutionary process that literally divides the work-life dynamic in a new way. What if your work self and home self had different lives, memories, and concerns? Britt Lower, Patricia Arquette, and Christopher Walken co-star in this incredibly smart and witty sci-fi drama.
Year: 2023–present
Length: 1 season, 10 episodes
Creators: Bill Lawrence, Jason Segel, Brett Goldstein
Some of the team behind Ted Lasso created a different kind of dramedy for another comedy actor. This time it's Jason Segel as a therapist who decides to start getting a little too honest with his patients, much to the shock of his colleagues, played by Jessica Williams and Harrison Ford — who is doing some of the best work of his recent career.
Year: 2022–present
Length: 2 seasons, 12 episodes
Creators: Morwenna Banks, Will Smith, Jonny Stockwood, Mark Denton 
Apple was so confident in what it had with this spy thriller that it ordered four seasons from the jump and had two shot and filmed and aired in the same year (2022). The third and fourth seasons are in production now, and fans probably hope Slow Horses runs forever. Gary Oldman is phenomenal as the head of Slough House, a sort of halfway house for British spies who made mistakes in more prominent positions. Of course, they're usually the ones who save the day.
Year: 2021–present
Length: 1 season, 10 episodes
Creator: Reggie Rock Bythewood
Swagger is the most underrated drama on Apple, a heartfelt and genuine family drama about a young man trying to navigate the choppy waters of potential sports superstardom. The number of people who want a piece of a young man when it looks like he might be the next LeBron James is staggering, and the writers on the show avoid melodrama in favor of truth. It helps to have a great ensemble that includes O'Shea Jackson Jr., Isaiah Hill, Shinelle Azoroh, and Quvenzhane Wallis, fulfilling all of that promise from Beasts of the Southern Wild.
Year: 2020–present
Length: 3 seasons, 34 episodes
Creators: Jason Sudeikis, Bill Lawrence, Brendan Hunt, Joe Kelly
Shows based on ad campaigns shouldn't be this successful. And yet here we are with Apple claiming ownership of arguably the biggest streaming comedy ever, a program that has won the Emmy for Best Comedy, Best Actor (Jason Sudeikis), and Best Supporting Actor (Brett Goldstein) two years in a row. Currently airing its third and potentially final season, Ted Lasso is massive. Every streamer wishes they had it.