Sudbury arts and entertainment, in brief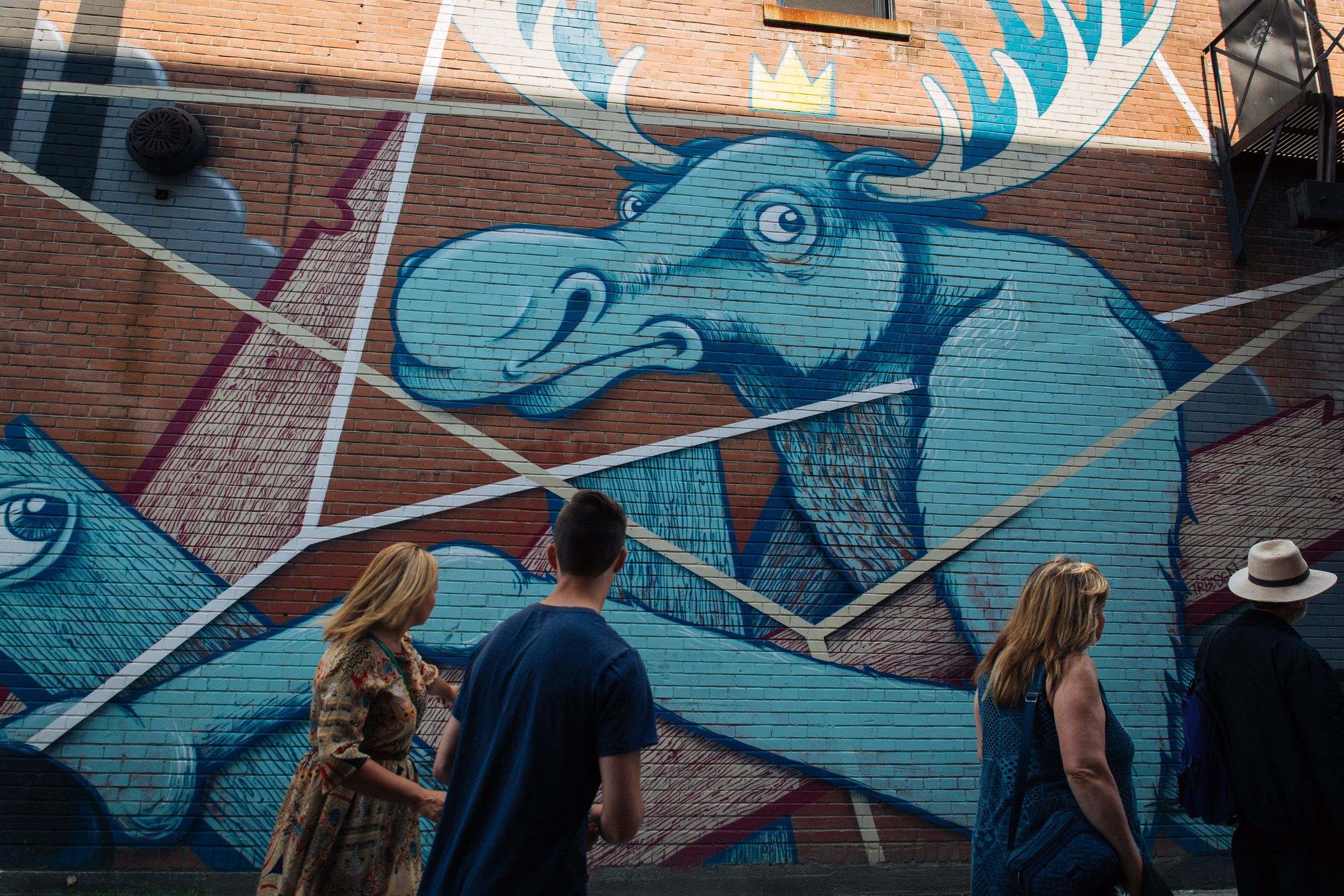 Article content
Up Here presenting guided mural tours all summer
Article content
Grab your squad, slap on your best walking shoes and prepare to be swept off your feet by Sudbury's new guided mural tours.
Article content
Up Here festival is thrilled to announce they will be hosting guided tours once a month until October.
Up Here's guided mural tours are the crème de la crème when it comes to discovering Sudbury's impressive urban art gallery. You will uncover the stories and secrets behind more than 30 monumental works of art, while delving into back alleys to reveal hidden treasures crafted by brilliant artists from around the world. 
The tours takes place July 29; Aug. 19 during Up Here 9 (a second tour takes place at 3 p.m.); Aug. 20; Sept. 16; and Oct. 14. All tours begin at noon.    
Reserve your spot for one of these colourful two-hour walking tours. Tickets cost $15 per person. The best part? Kids aged 16 and under can join in on the fun completely free of charge. 
Article content
For further information and to book your spot, please visit uphere.com/tours.
Cinefest Sudbury relaunches CTV Best in Shorts competition
Cinefest Sudbury organizers, in partnership with CTV, are thrilled to relaunch the CTV Best in Shorts competition. 
The competition, which is now accepting submissions, provides Northern Ontario filmmakers with an opportunity to advance their careers, have their work screened to a festival audience, receive exposure within the film industry and have a chance to compete for a variety of cash prizes.
There are four categories, including open; post-secondary student; secondary school, which grants up to $1,250 to secondary school students who display notable talent in the areas of animation, documentary, experimental, music video and/or narrative filmmaking; and the Northern Flicks award, which will be presented to the film that best celebrates aspects of life in Northern Ontario.
Article content
All entries must be accompanied by the completed application form, which can be downloaded at cinefest.com. Finalists selected by the jury will be announced following the submission deadline on Aug. 18 at 4:30 p.m.
The 35th edition of Cinefest Sudbury takes place Sept. 16-24. 
Jazz Sudbury takes place in September 
Jazz Sudbury is getting ready for its 2023 festival, which takes place Sept. 8-10. This year's edition of Jazz Sudbury promises to be yet another outstanding event in the festival's 15-year history.
The festival is returning to its new home at Place des Arts.
"We are so excited to return to Place des Arts for this year's festival," said Allan Walsh, Jazz Sudbury's artistic director. "We are thrilled to continue our partnership with this state-of-the-art venue, and I believe our core audience has enjoyed the convenience and atmosphere of live jazz at Place des Arts. Our presence deepens Jazz Sudbury's long-standing commitment to the city's downtown core."
Article content
The line-up for the 2023 festival includes an incredible array of local, national and international talent. Headline performers this year include Crystal Shawanda; OKAN; Alex Bird & The Jazz Mavericks; Queen Kong; Emilie-Claire Barlow; Peripheral Vision, led by former Sudburian, guitarist Don Scott, and bassist Michael Herring; and Denzal Sinclaire.
In addition to the mainstage acts at Place des Arts, patrons can experience the downtown Jazz Walk with the Nickel City Stompers leading a New Orleans-style jazz parade from one workshop performance to another at several off-site downtown venues.
Jazz Sudbury is offering different ticketing options for the mainstage acts, including a nightly concert pass, as well as a two-night concert pass. Tickets for the Jazz Walk and emerging artist workshop will be separately ticketed.
Article content
"As we build on the momentum of last year's festival, we expect our second year at Place des Arts to be amazing," Walsh added. "We want to thank our core audience for staying with us, and we really hope to grow the festival thanks to this continued partnership with Place des Arts. Live jazz is an amazing experience, and we hope people will come out to see these incredible performers."
Tickets for the Jazz Sudbury festival can be purchased at the Places des Arts box office. For full details about Jazz Sudbury, please visit jazzsudbury.com, or facebook.com/JazzSudbury.
Get ready to Wiggle
The beloved children's entertainers, The Wiggles, are coming to Sudbury as part of their Ready, Steady, Wiggle Canadian tour.
The show is a high-energy celebration of music and dance, aimed to inspire and captivate young audiences. Featuring all the Wiggly classics, such as Fruit Salad, Hot Potato and Rock-a-bye Your Bear, as well as new songs from the group.
Article content
The tour stops by the Sudbury Community Arena on Oct. 6 for one show only at 6 p.m.
Tickets cost $56.25 and are available via greatersudbury.ca/tickets; by phone at 705-671-3000; or in person at 240 Elgin St. Children under 12 months old are free but must be issued a ticket.
The Glorious Sons stop by Sudbury Arena 
The Glorious Sons will perform at the Sudbury Community Arena as part of their 2023-24 North American tour. The show takes place Nov. 29. Doors open at 7 p.m. and the show starts an hour later. 
Tickets go on sale June 23 at 10 a.m. Buy yours online at greatersudbury.ca/tickets; by telephone at 705-671-3000; or in person at the arena box office, 240 Elgin St. 
General admission standing tickets are $84.39 each; there is reserved seating at $84.39, $69.39 and $52.39; and VIP tickets cost $220 or $335. Ticket delivery is digital only. 
For more information, please go to theglorioussons.com.