Returning Apple TV Show Confirms Jon Hamm's New Villain Role Will Be His Best After 8 Years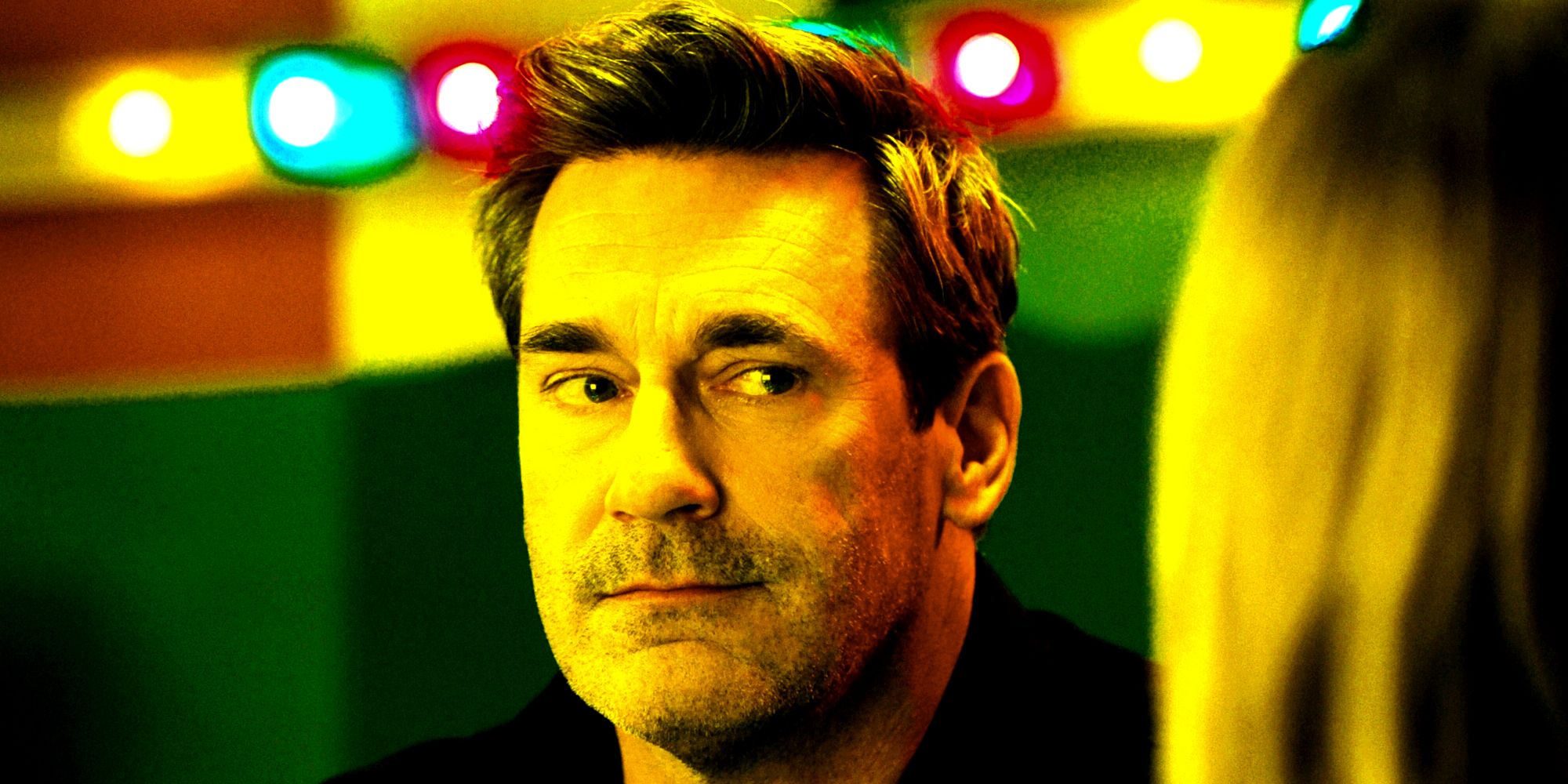 WARNING! This article contains SPOILERS for The Morning Show season 3, episode 9.
Summary
Jon Hamm's villain role in Apple TV+'s The Morning Show proves to be his best since Mad Men, solidifying his TV comeback.
Hamm's performance as Paul Marks demonstrates his ability to portray a menacing character with calm confidence and intimidation.
The success of The Morning Show and Hamm's upcoming role in Fargo season 5 mark the strongest TV run for the accomplished actor since Mad Men.
Jon Hamm's big return to television in The Morning Show on Apple TV+ has been a strong outing that proves his new villain role will be his best in the eight years since Mad Men ended. Hamm joined The Morning Show season 3 cast as Paul Marks, a billionaire tech titan acquiring UBA and saving the network from sure financial ruin. As the season has progressed, however, more has been revealed about Paul that made it clear he's a villain. Jon Hamm's 2023 TV domination won't end with The Morning Show, and his villain role is a good sign for his upcoming role in another ongoing series.
Hamm is no stranger to television success, having been nominated for a Primetime Emmy Award for all seven seasons of Mad Men, finally winning the award in 2015 for his final portrayal of the iconic Don Draper. In the eight years since Mad Men ended, Hamm has been a part of a variety of television projects, including Good Omens and Unbreakable Kimmy Schmidt, but The Morning Show is undoubtedly his biggest return to television. This is largely in part because it will be almost immediately followed by another highly anticipated project for Hamm.
Related: The Morning Show EP Explains The Importance Of Casting Jon Hamm: "It Was A Hole-In-One With Him"
The Morning Show Season 3, Episode 9 Makes Jon Hamm Its New Big Villain
Paul was a character shrouded in mystery when he first joined The Morning Show, only showing the persona he had carefully crafted to hide the less desirable aspects of his character. As The Morning Show uncovered Paul and Stella's past, and he appeared in more scenes with his assistant, it became clearer that he isn't a good guy, nor does he have good intentions when it comes to buying UBA. Stella, Bradley, and Chip's investigation of Paul and his company Hyperion reached some breakthroughs in The Morning Show season 3, episode 9 that revealed he hasn't changed since Stella first worked with him.
Yet, what really solidified Paul as a villain wasn't the past or business failures he's been desperately trying to hide, but the way he threatened Bradley at the end of The Morning Show season 3, episode 9. The casual way in which he handled the confrontation was intimidating and frightening enough to make Bradley quit her job at UBA completely in a matter of minutes. Unlike the outbursts seen by past villains in The Morning Show, the calm confidence Hamm's Paul exuded made him an even greater threat that won't be easily deterred.
Jon Hamm's The Morning Show Character Confirms How Great His Fargo Season 5 Villain Will Be
The Morning Show was one of the first Apple Originals and is still going strong with The Morning Show season 4 confirmed even before season 3 began streaming. One can assume that the addition of Hamm had a positive impact on the renewal, as he drew even more viewers in and delivered a memorable performance. Hamm joined an already star-studded cast in The Morning Show that boasts Jennifer Aniston, Reese Witherspoon, Billy Crudup, Julianna Margulies, and more. As Paul, Hamm takes things to another level, raising the bar in scenes where he goes head-to-head with Crudup's Cory and romances Aniston's Alex.
Hamm is joining another talented cast in Fargo season 5, also in a villain role. Hamm's character was described by Fargo executive producer as "wonderfully menacing," a description that could fit The Morning Show's Paul Marks as well. Hamm will play Roy Tillman, a sheriff and preacher who is in pursuit of Dorothy "Dot" Lynn (Ted Lasso's Juno Temple). Tillman will be Hamm's first lead television role since Mad Men, and his performance in The Morning Show is evidence that he's only gotten better over time. These aren't Hamm's first villain roles, but they do remind TV audiences that he is still one of the best actors in the game.
Related: Jon Hamm's New TV Villain Role Looks Perfect – And This $226 Million Movie Proves Why
Jon Hamm's TV Villain Trend Marks His Best TV Run Since Mad Men
Hamm's time on Mad Men as Don Draper solidified him as a true television star. Draper quickly became one of the most well-known, interesting characters in TV history, and Hamm shot to fame along with him. Since Mad Men, most of his notable work has been on the big screen in films like Tag, Bad Times at El Royale, Richard Jewell, and Top Gun: Maverick. His television roles have been comparatively smaller until recently, making 2023 Hamm's best TV run since Mad Men ended in 2015. Both The Morning Show and Fargo start a TV villain trend for Hamm that will hopefully continue and expand his legacy beyond Mad Men.