Celebrity vacation hotspots: George Clooney takes on Greece; Cindy Crawford, Sofia Vergara sizzle on holiday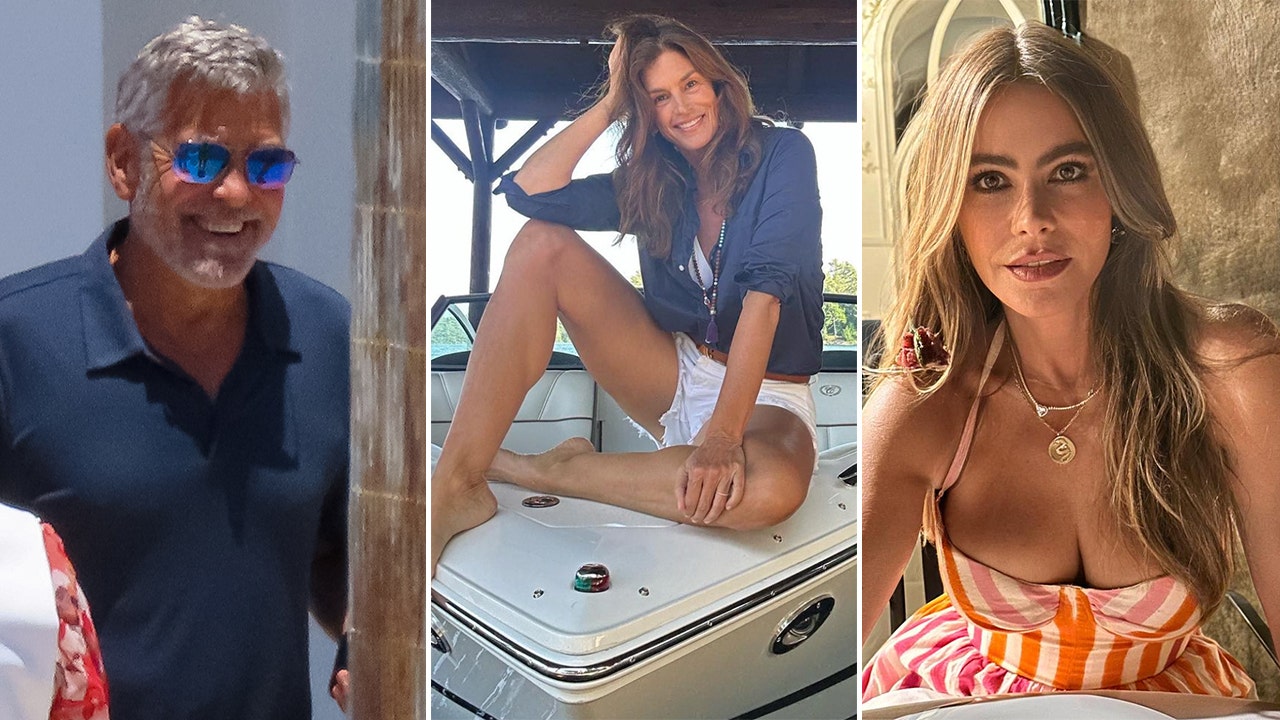 Hollywood's hottest celebrities are heating up summer with bikini photos and luxurious beach views.
While some stars are making a splash by cruising overseas, others have been spotted soaking up the sun in Italy and tying the knot in Mykonos, Greece. 
From Sofia Vergara relaxing under the Italian sun in a cheeky swimsuit to Jennifer Lopez slurping spaghetti on the beautiful island of Capri, here's a look at some celebrity vacation hot spots this summer.
SOFIA VERGARA GETS CHEEKY IN THONG BIKINI AHEAD OF 51ST BIRTHDAY
Italy 
Sofia Vergara escaped to Italy on a European holiday and celebrated her 51st birthday in style. 
The "Modern Family" star shared her exquisite vacation with her 31.1 million followers on Instagram as Vergara chowed down on delectable Italian cuisines and showed off her bikini body.
Vergara's vacation photos came after her split from Joe Manganiello in July after seven years of marriage.
In documents obtained by Fox News Digital, Manganiello cited "irreconcilable differences" as grounds for the divorce.
BEN AFFLECK AND JENNIFER LOPEZ CATCH INDEPENDENCE DAY FIREWORKS WITH TOM BRADY IN THE HAMPTONS 
Jennifer Lopez had some fun in the sun on her summer getaway in Capri, Italy.
The "Jenny from the Block" singer stunned in a floral corset dress while enjoying "spaghetti ravioli," according to her Instagram post.
Lopez, 54, was slurping spaghetti with a beautiful ocean view and had "Mambo Italiano" by Dean Martin playing in the background of her video.
She was also seen peering out into the clear blue water and raising her hands while cruising on an Italian boat.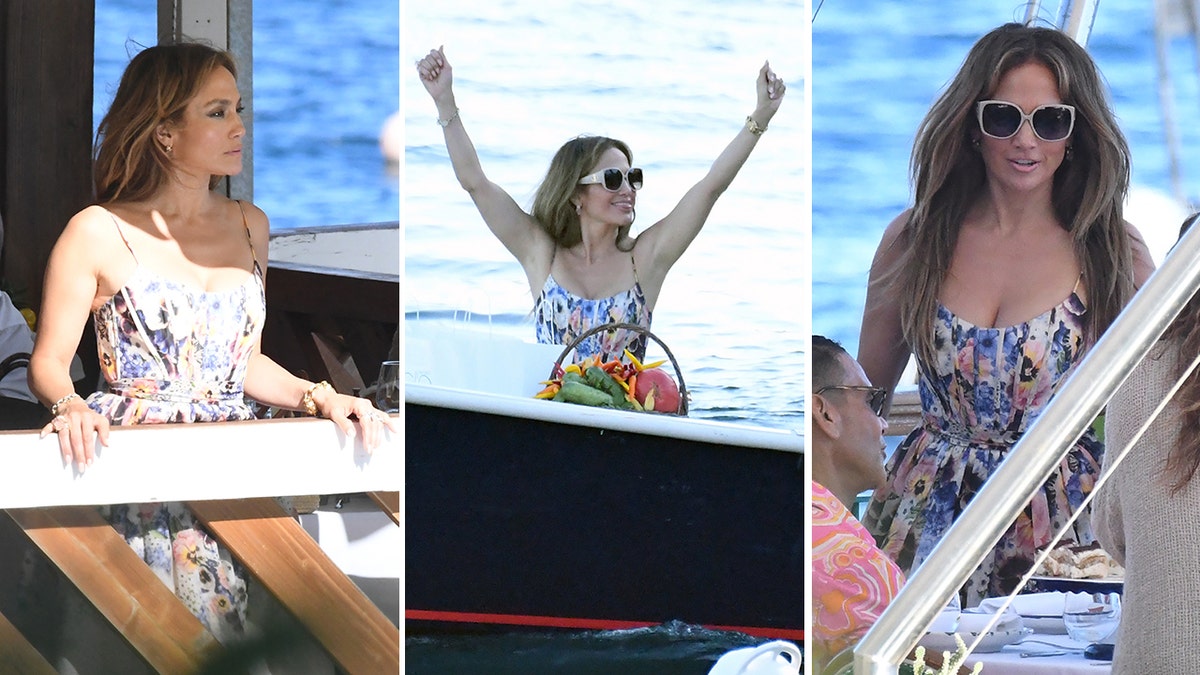 GWYNETH PALTROW SUNBATHES TOPLESS WITH HUSBAND BRAD FALCHUK WHILE VACATIONING IN ITALY
Gwyneth Paltrow, 50, was baring it all during her Italian vacation.
In a series of photos, the Goop founder was spotted relaxing on vacation with husband Brad Falchuk and son Moses – who she shares with her ex, Coldplay frontman Chris Martin.
Paltrow posed topless while lounging with Falchuk in her first photo as she covered her chest with her arm and beamed at the camera for a selfie.
The Marvel star also shared other snaps from her summer getaway, including an image of an Italian villa and a view of a pool set against a backdrop of rolling hills. She posted several photos of food, including a fresh-cooked Italian dinner, a wheel of cheese and a cannoli.
'BUFFY THE VAMPIRE SLAYER' STAR SARAH MICHELLE GELLAR REVEALS 'EXTREMELY TOXIC MALE' SET EARLY IN HER CAREER
Sarah Michelle Gellar also enjoyed a romantic Italian getaway with longtime husband Freddie Prinze Jr.
The "Buffy the Vampire Slayer" star posed in front of breathtaking views from the bridges in Florence to balcony views in Positano.
Geller continued to live la dolce vita in Italy while enjoying the sunset with her husband in Tuscany and relaxed in thermal baths as she sported chic swimsuits.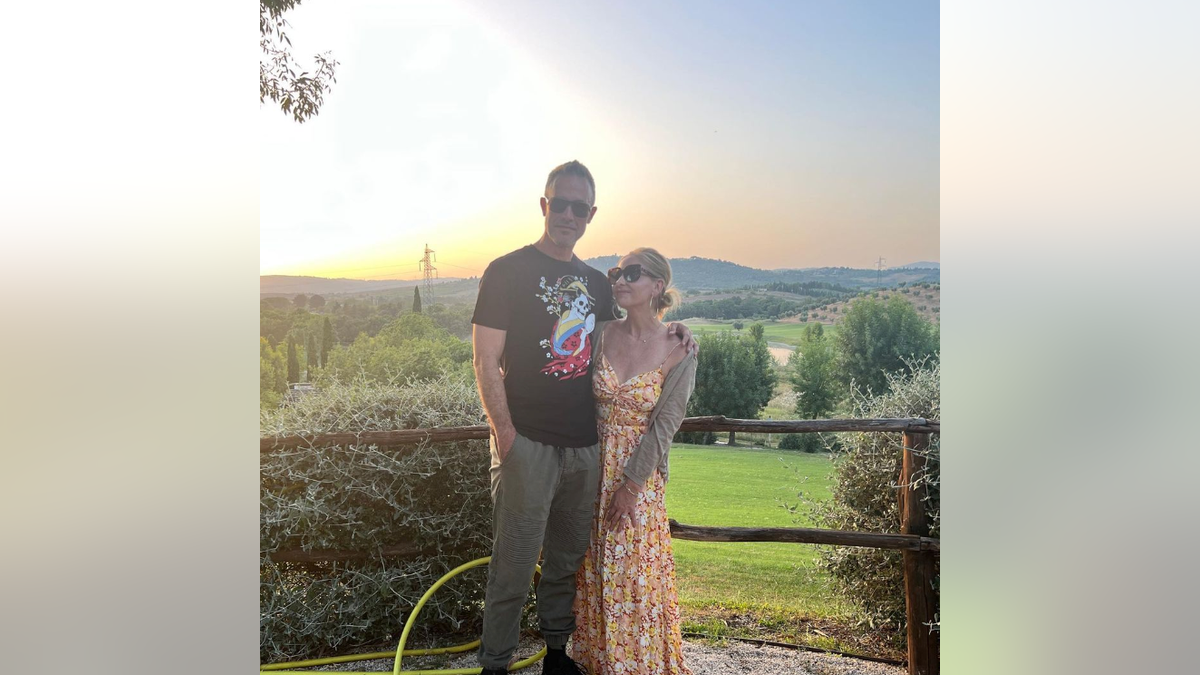 Greece
George Clooney, 62, shined his pearly whites in Mykonos, Greece.
Earlier this summer, the "Ticket to Paradise" star was all smiles on holiday while he participated in a photo shoot for Omega Watches.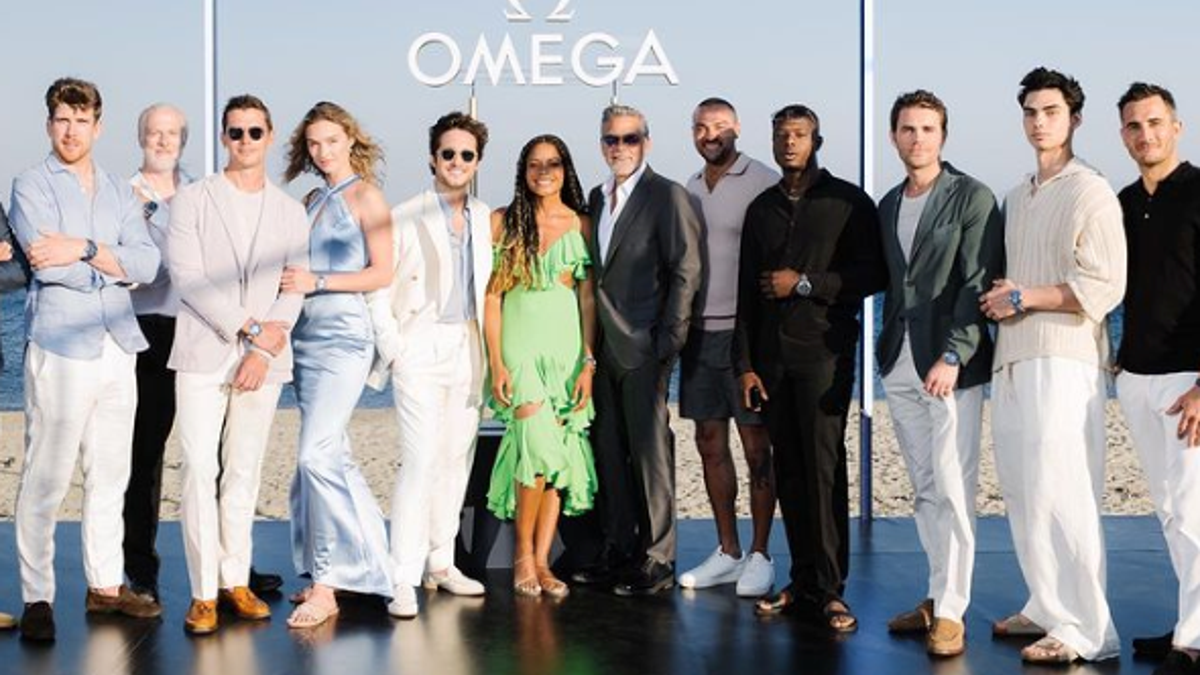 Before he met up with actors Paul Wesley, Diego Boneta and the Omega team in his dashing suit, Clooney was spotted in a casual navy-blue polo, khakis and reflective sunglasses.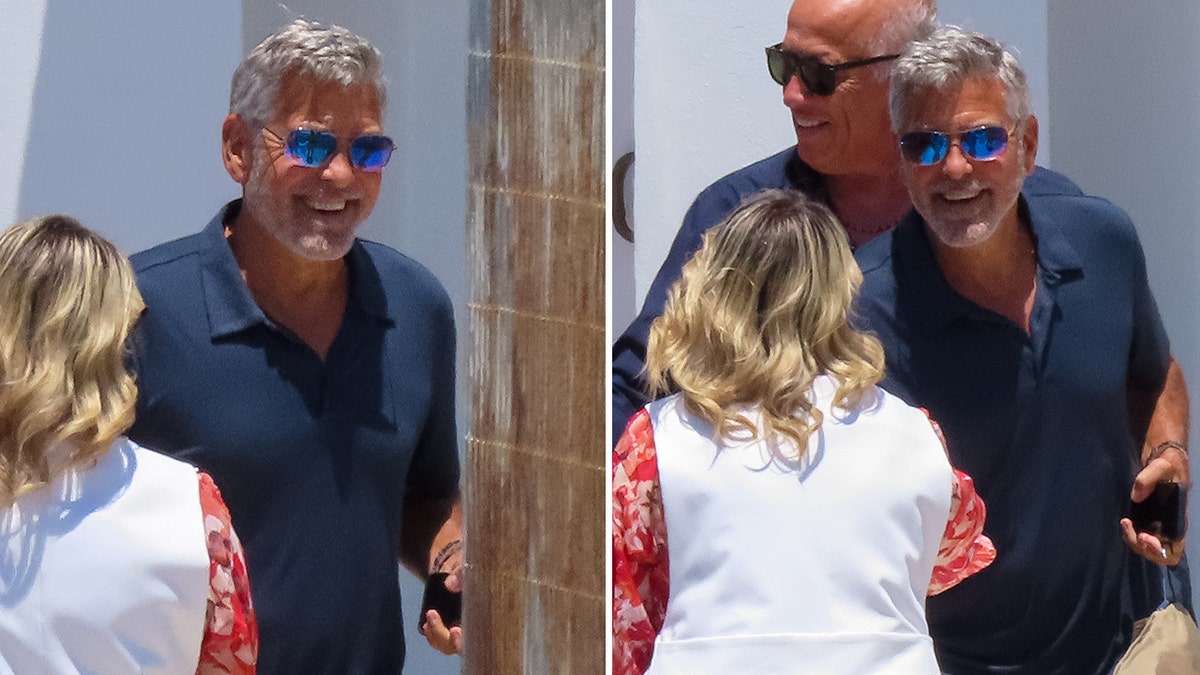 Clooney was also recently seen cozying up next to his wife, Amal, in Venice, Italy.
The two were spotted arm-in-arm in matching outfits as Amal wore a white chic floral dress and George sported a dark polo with light-colored slacks.
The couple held hands before getting on a boat as they own a home on Lake Como in northern Italy. Amal was honored at Diane von Furstenberg's 14th annual DVF Awards.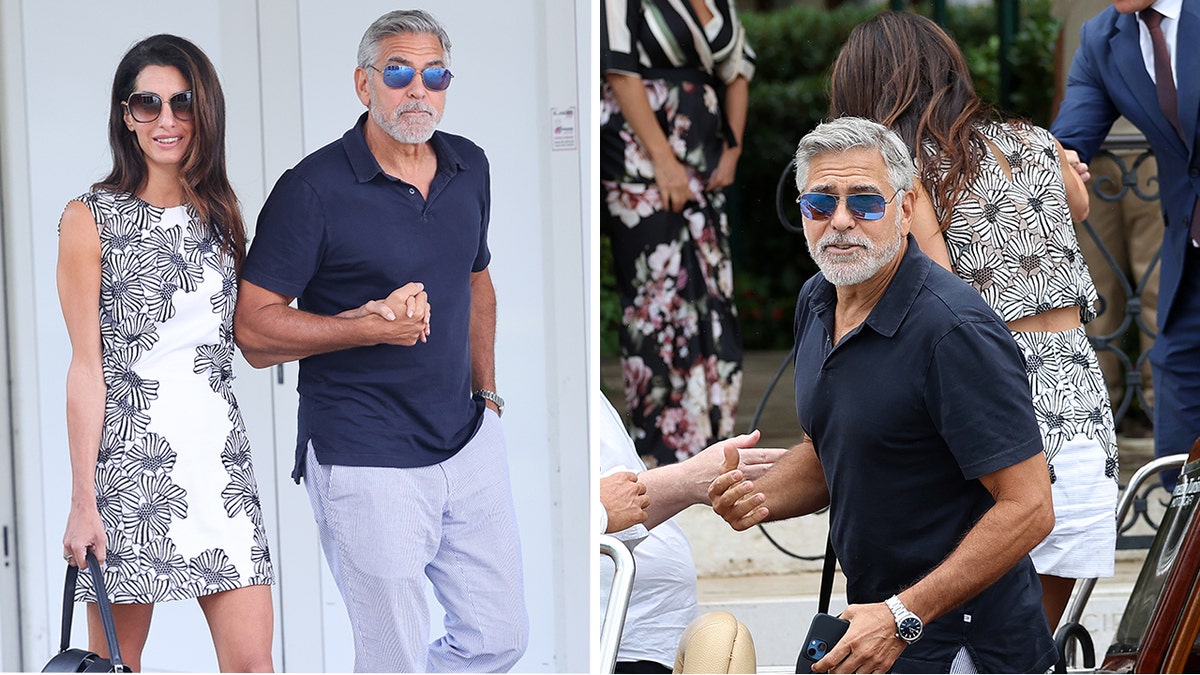 GEORGE CLOONEY SAYS TWINS 'DON'T REALLY CARE' HE'S A STAR AT KENNEDY CENTER HONORS WITH WIFE AMAL CLOONEY
Love was in the air for "Rocky" star Dolph Lundgren this summer.
Lundgren, 65, tied the knot with Norwegian personal trainer Emma Krokdal, 27, during an intimate ceremony in July.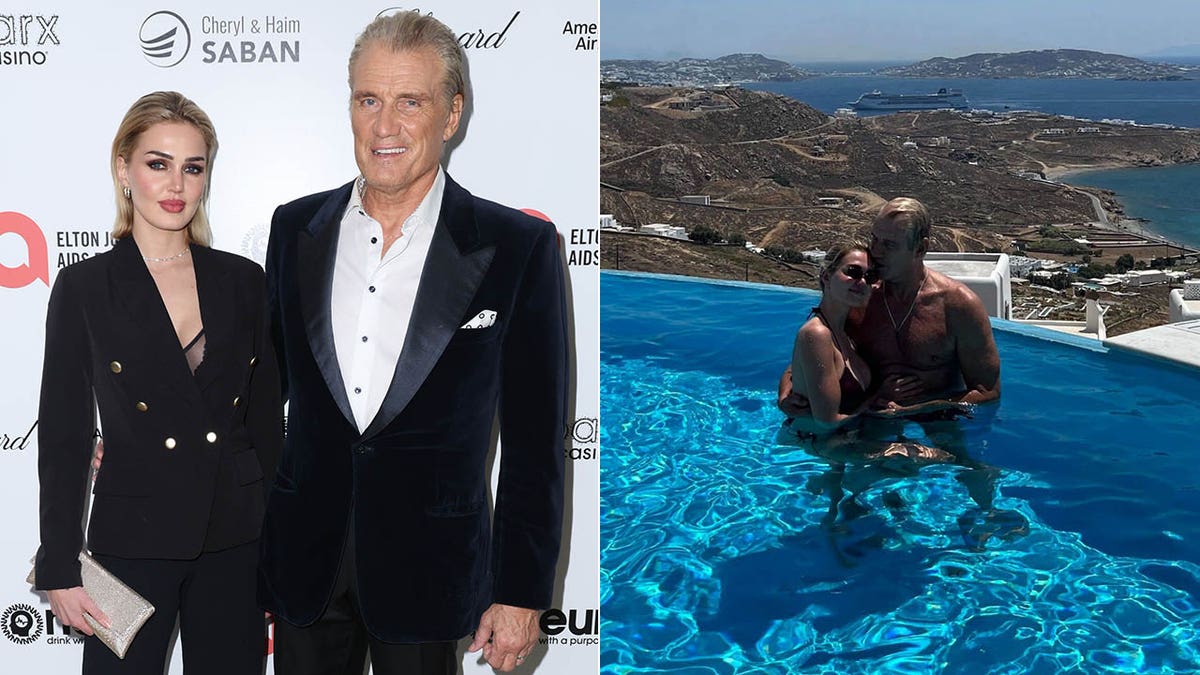 "We chose to celebrate our love by getting married at our villa in Mykonos — with family and a few close friends," the pair wrote in a statement. "With both Covid and a long road of challenging medical treatments, we've had to push our marriage plans many times."
"Now we felt it was finally the right time to celebrate love, life and happiness. In the land of the Gods."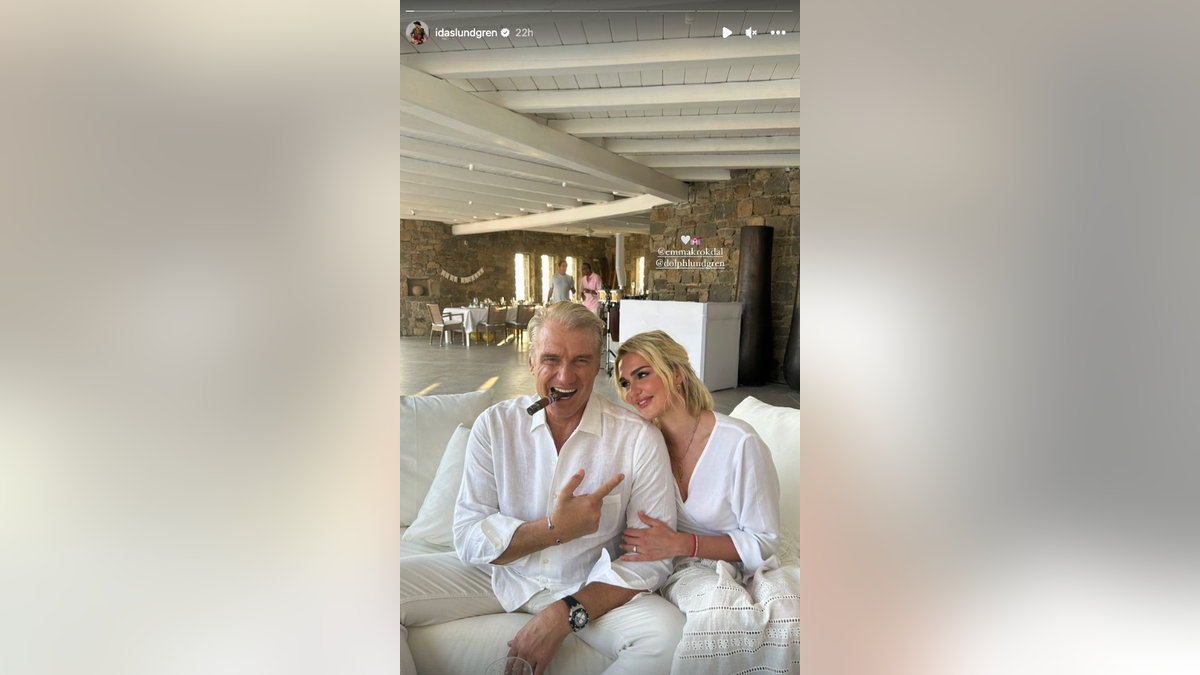 'ROCKY' STAR DOLPH LUNDGREN, 65, AND EMMA KROKDAL, 27, SEEMINGLY GET MARRIED IN GREECE
FRANCE 
Elizabeth Hurley heated up summer by lounging nude on a pool float and reunited with celebrity friends on holiday in the south of France.
The 58-year-old model sizzled by the pool completely naked as she lounged on a float wearing nothing but her summer shades.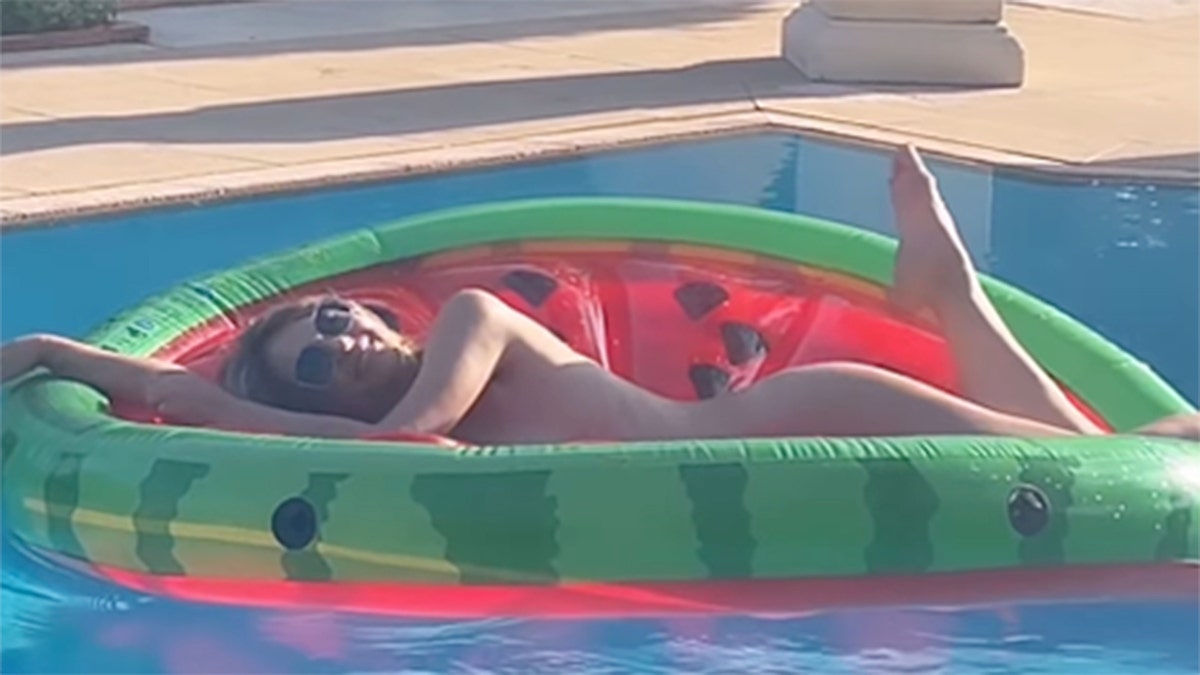 Hurley also reunited with a few celebrity friends this summer, including Dame Joan Collins.
And in July, the "Austin Powers" star gave legendary artist Elton John a warm embrace in a summer snap in St. Tropez.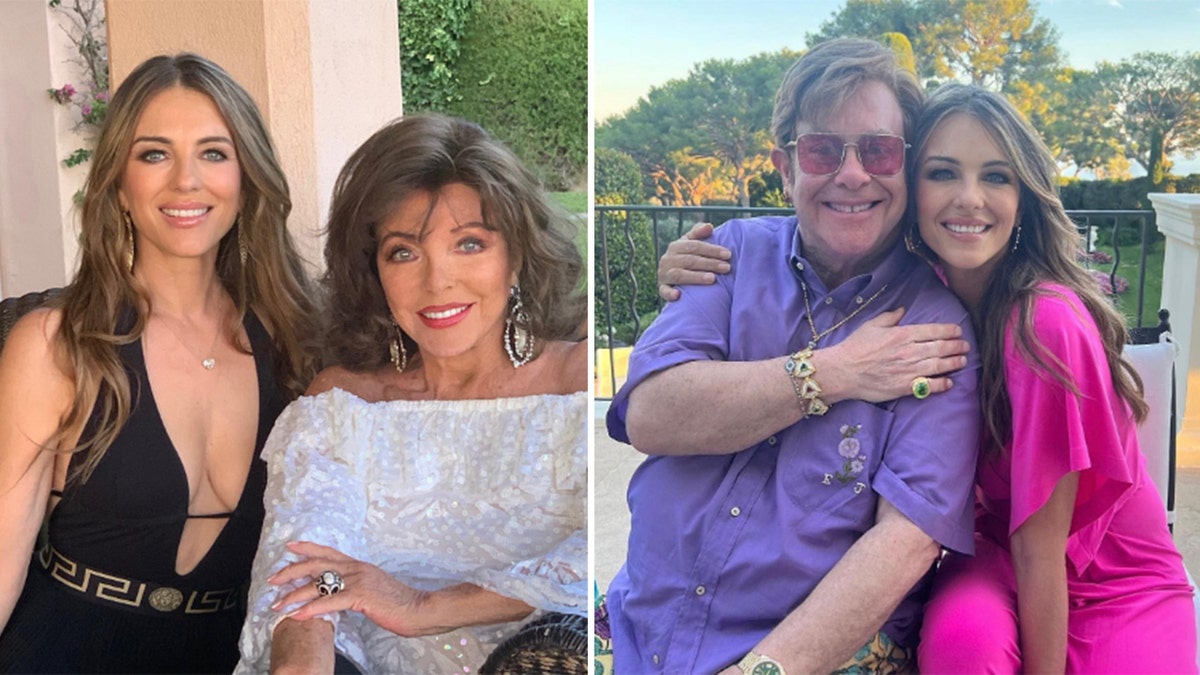 ELIZABETH HURLEY HEATS UP SUMMER BY LOUNGING NUDE ON POOL FLOAT, REUNITING WITH JOAN COLLINS, ELTON JOHN
"Law & Order" actress Mariska Hargitay enjoyed a European summer getaway in the south of France.
She unexpectedly ran into comedian Jerry Seinfeld's wife, Jessica, on a "beautiful path" during their summer excursion. 
The two were photographed with yachts in the background by the scenic waters on Jessica's Instagram. 
Hargitay responded in the comments section with, "Lucky us," and three heart emojis on the social media post.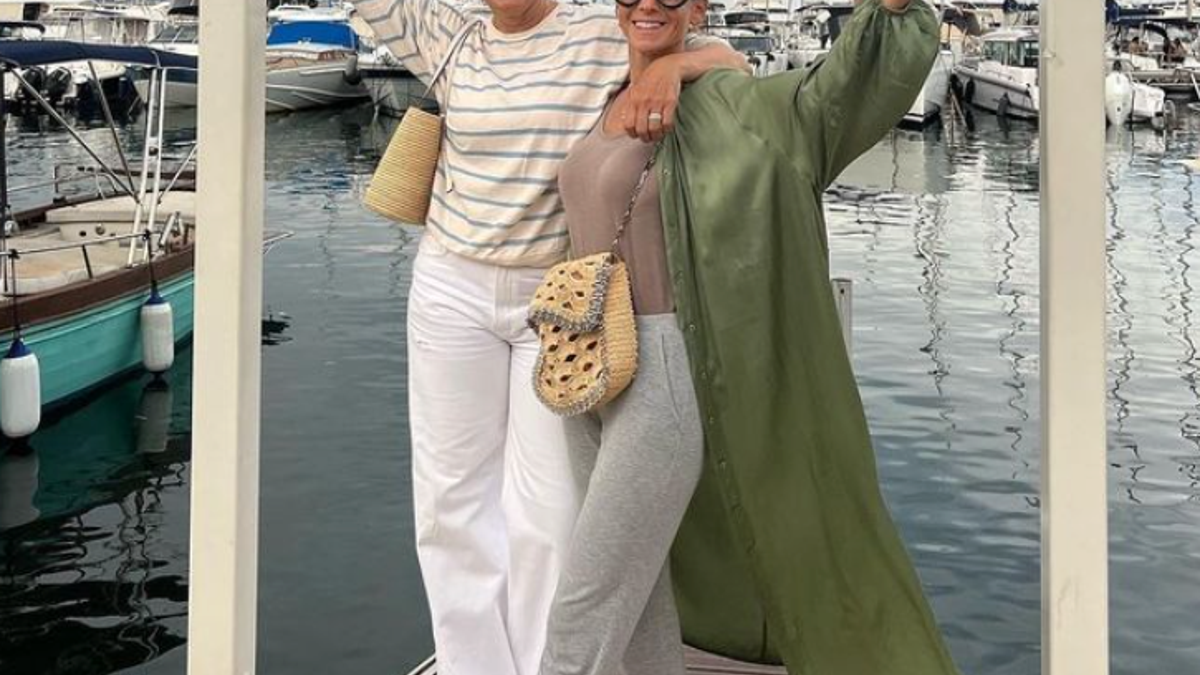 CLICK HERE TO SIGN UP FOR THE ENTERTAINMENT NEWSLETTER
Canada
Former supermodel Cindy Crawford looked flawless during a serene lakeside vacation on the Canadian lakes.
Crawford, 57, shared a leggy photo posing on top of a boat while wearing a blue long-sleeved button-up and white shorts.
In her Instagram carousel, she posted a beautiful sunset with the boat sailing in the water and a snap of her husband, Rande Gerber, in the driver's seat. 
"Real Housewives of Beverly Hills" star Lisa Rinna joined in on the fun as they posed on a dock with friends.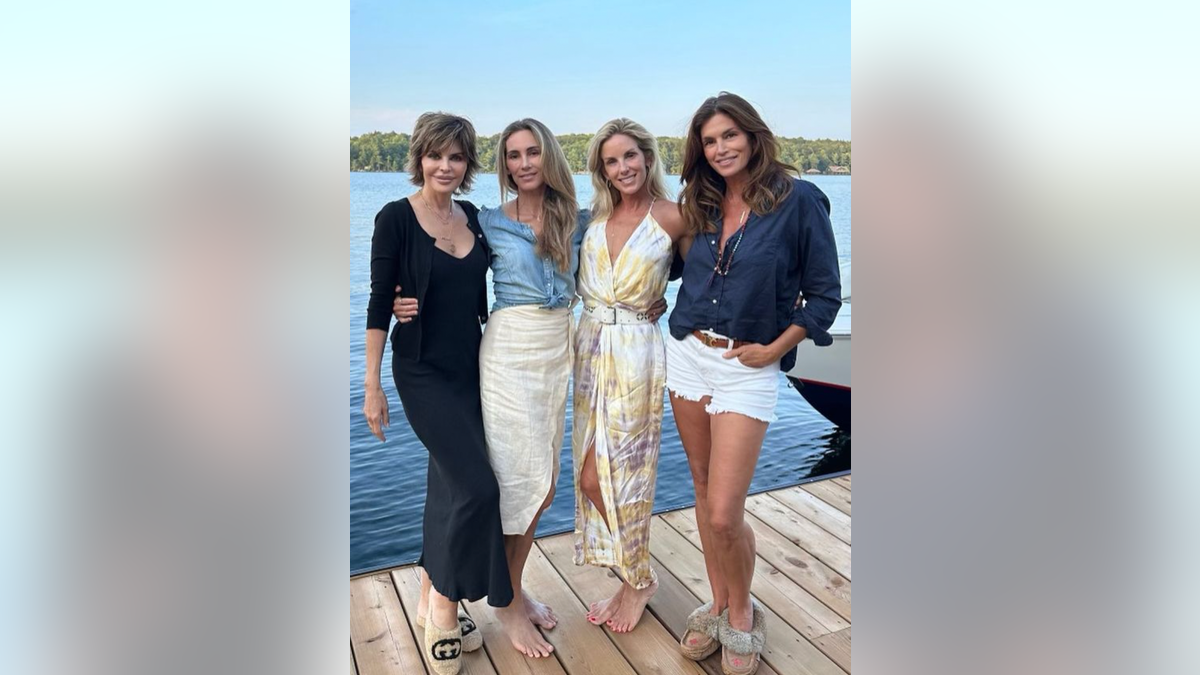 Miami
The Beckhams showed off their fabulous vacation in Miami this summer.
The former Spice Girls singer, Victoria Beckham, took to Instagram to share the Miami nightlife with her husband and a few friends.
Victoria rocked all black while posing for the camera as she held up the peace sign. Her husband, soccer star David Beckham, wore a light-blue button-up and showed off his body tattoos.
The couple was joined by fellow soccer player Lionel Messi and wife Antonela Roccuzzo at the hotspot Gekkō.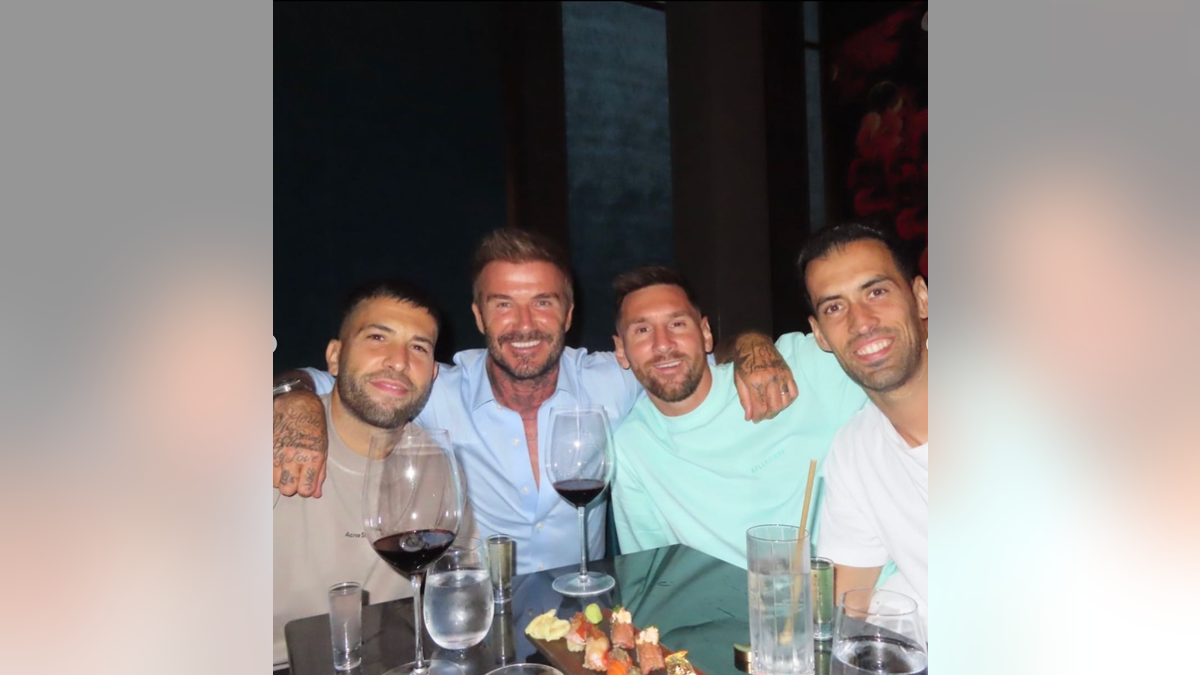 Idaho
Kristen Bell had a star-studded dinner this summer with mountain views in Idaho.
The "Bad Moms" actress shared a series of photos surrounded by waterfalls and nature with her family, including husband, Dax Shepard.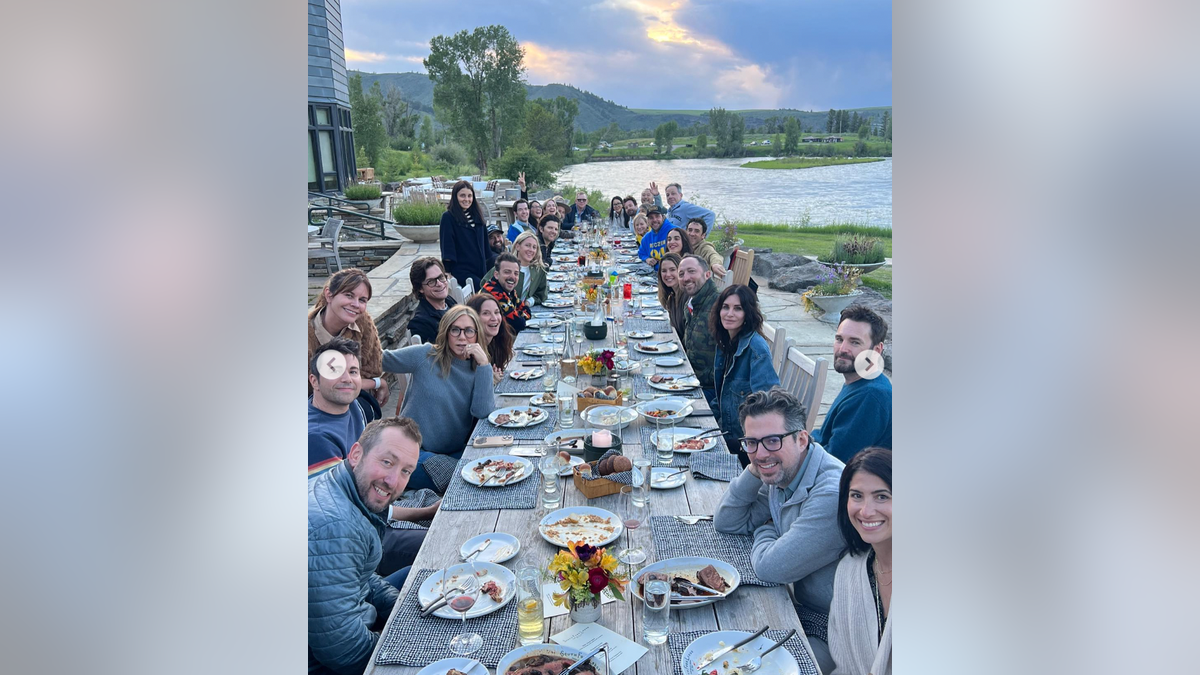 Bell and Shepard had a seat at the dining table with several A-list celebrities, including "Friends" stars Jennifer Aniston, Courtney Cox, actor Jason Bateman, comedian John Mulaney and more. 
CLICK HERE TO GET THE FOX NEWS APP