Best TV Shows That Went On for More Than 5 Seasons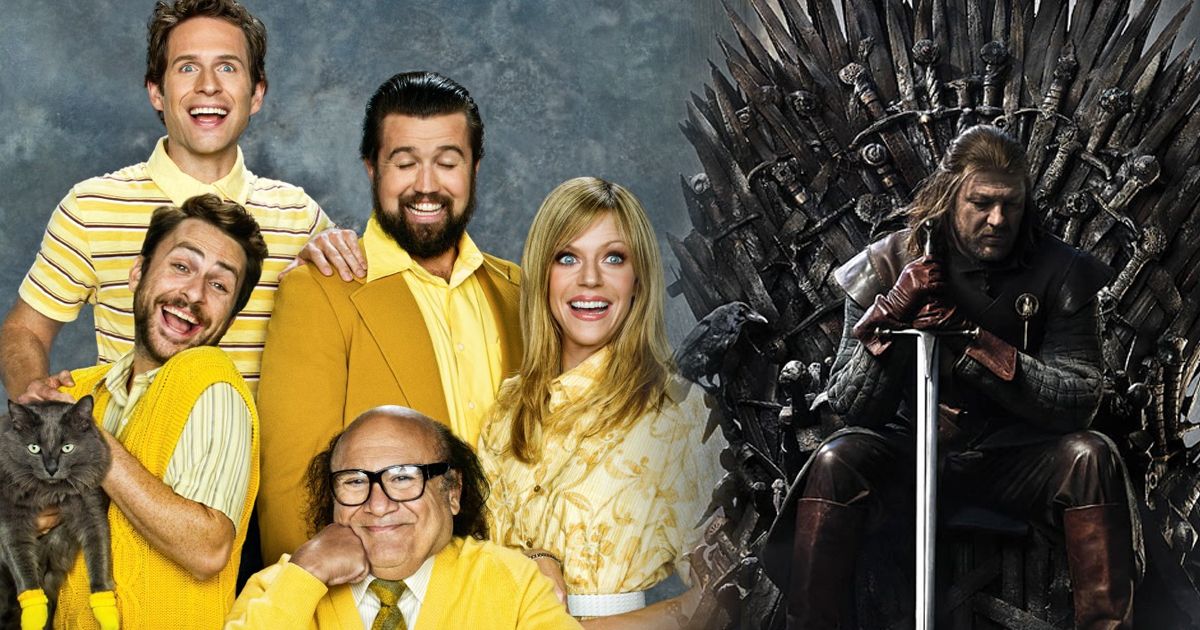 TV shows are a staple in our entertainment diet, and sometimes we just can't get enough of them. We fall in love with the characters and the storylines, the world they inhabit, and we want to see more and more of everything. That's why it's always exciting when a show gets renewed for another season, and even more so when it's renewed for several seasons. These shows have managed to captivate their audience and keep them coming back for more, episode after episode, season after season.
But with so many TV shows out there, it can be tough to know which ones are worth your time. That's where this list comes in handy. We've scoured the TV landscape to bring you the best shows that have gone on for more than 5 seasons. These are the shows that have stood the test of time with a certain je ne sais quoi and have consistently delivered top-notch entertainment for their entire run.
Whether you're a fan of heart-pumping action, sharp comedy, or heart-wrenching drama, there's something on this list for you. If you're looking for a new show to sink your teeth into, or if you just want to know which shows are worth binging, this list is for you. Get ready for some of the best TV has to offer, all with more than 5 seasons under their belts.
Updated on August 12th, 2023, by Federico Furzan: This article has been updated with additional content to keep the discussion fresh and relevant with even more information and new entries.
25
The Sopranos
6 Seasons
First up on our list is a show that redefined the crime drama genre and has become a cultural phenomenon in its own right: The Sopranos. This show follows the tumultuous life of Tony Soprano, a New Jersey mob boss trying to balance the demands of his family and his criminal organization.
Along the way, we see Tony grapple with all sorts of issues, from depression and anxiety to family drama and betrayal. The Sopranos boasts a talented cast, led by the incomparable James Gandolfini as Tony Soprano. Joining him are Edie Falco and Michael Imperioli. Do you like crime dramas? You have got to see this one.
24
Schitt's Creek
6 Seasons
Schitt's Creek is a modern sitcom that complies with every rule in the book. This show follows the wealthy Rose family as they are forced to move to a small town called Schitt's Creek after they lose their fortune.
At first, the Roses are miserable in their new surroundings, but as they spend more time in the town, they begin to see the charm in the eccentric locals and the beauty in their simple way of life. Schitt's Creek is led by an all-star cast, including comedy legends Eugene Levy and Catherine O'Hara.
23
This Is Us
6 Seasons
This Is Us is a heart-wrenching drama that follows the lives of the Pearson family across different time periods. We see the family navigate life's highs and lows, from the joy of falling in love and starting a family to the pain of loss and grief.
Along the way, we see the Pearsons confront all sorts of issues, from addiction and mental health to race and identity. A character-driven drama that with its powerful performances and emotional storytelling will leave you in tears after every single episode.
22
BoJack Horseman
6 seasons
BoJack Horseman follows the misadventures of BoJack Horseman, a washed-up actor trying to make a comeback in Hollywood. Along the way, we see BoJack deal with all sorts of issues, from addiction and depression to relationships and self-worth.
The animated Netflix show is recommended for viewers with a taste for adult animation who are not afraid of shows that use the medium to tell different stories than expected. This one gets awkward, so be prepared.
21
Peaky Blinders
6 Seasons
Peaky Blinders is iconic for its visuals, compelling characters, and intense action plots. It follows the rise of the Shelby family, a gang of criminal masterminds operating in Birmingham, England during the aftermath of World War I.
We see the Shelby family navigate the seedy underworld of the city, facing off against rival gangs and the authorities as they fight to become the most powerful criminal organization in the region. With its incredible cast, there's no way you won't connect with it and develop a following through its six seasons that will go by in a flash.
Related: Peaky Blinders: The Best Episodes of the Series, Ranked
20
How To Get Away With Murder
6 Seasons
How To Get Away With Murder kept audiences on the edge of their seats for its whole run. The legal drama follows the brilliant and enigmatic criminal defense professor Annalise Keating, played by Viola Davis in a career-defining role, and her team of ambitious law students as they become embroiled in a series of complex and dangerous cases.
With plot twists and turns at every corner, How To Get Away With Murder keeps you guessing until the very end. The show is not only a thrilling ride, but it's also a character study, delving into the personal lives and motivations of each member of the Keating Five. And with a diverse and talented cast, there's no shortage of compelling performances to keep you hooked.
19
Downton Abbey
6 Seasons
Now let's go back in time for six seasons of drama, romance, and social upheaval. Downton Abbey is a period piece that follows the lives of the wealthy Crawley family and their servants in the early 20th century, as they navigate the world that's changing around them. This will stay with you long after the final credits of its series finale roll, though thankfully, fans still have two feature films.
Filled with complex characters, lavish costumes, and stunning production design, Downton Abbey is a feast for the senses. The show explores themes of love and loss, class conflict, and the enduring strength of family, all set against the backdrop of historical events like World War I and the sinking of the Titanic.
18
Mad Men
7 Seasons
Mad Men is a show that took us back to the golden age of advertising for seven seasons. This critically acclaimed drama follows the professional and personal lives of the employees at the fictional ad agency Sterling Cooper, and their charismatic but troubled leader, Don Draper, played by Jon Hamm.
Mad Men is a stylish and immersive look at the advertising industry during a time of great social change. The show is known for its attention to historical detail, its complex and flawed characters, and its razor-sharp dialogue. As the characters navigate the shifting cultural landscape of the 1960s, Mad Men explores themes of identity, sexuality, and the search for happiness.
17
Buffy the Vampire Slayer
7 Seasons
The horror TV classic Buffy the Vampire Slayer follows Buffy Summers, a young woman chosen to defend the world against vampires and other supernatural threats. But as Buffy battles monsters and demons, she also grapples with the challenges of growing up, including love, loss, and complicated relationships with her friends and family.
Starring Sarah Michelle Gellar in the title role, Buffy the Vampire Slayer is a show that has something for everyone. It has a much-earned spot in pop culture history and is better known than the original film that inspired the series.
16
The Good Wife
7 Seasons
The Good Wife is a legal drama that follows Alicia Florrick, a high-powered lawyer played by Julianna Margulies, as she tries to rebuild her career and her life after her husband, the Cook County State's Attorney, is embroiled in a sex and corruption scandal.
The Good Wife is known for its intelligent writing, its complex characters, and its top-notch cast, which also includes Christine Baranski, Archie Panjabi, and Josh Charles. With high-stakes legal cases, personal drama, and political intrigue, The Good Wife is a show that will keep you hooked with every single season.
Related: Funniest Sitcom Characters of All Time, Ranked
15
Gilmore Girls
7 Seasons
This charming show follows the life of Lorelai Gilmore, a young single mother, and her relationship with her daughter, Rory. Set in the small town of Stars Hollow, the show is full of witty banter, pop culture references, and heartwarming moments.
The dynamic between Lorelai and Rory is the backbone of the show, and their bond is a joy to watch. With its fast-paced dialogue and lovable characters, Gilmore Girls is a comfort watch that will leave you feeling warm and fuzzy, seven seasons of absolute comfort TV bliss.
14
Game of Thrones
8 Seasons
Based on the bestselling book series by George R.R. Martin, Game of Thrones is an epic fantasy drama that takes place in the fictional world of Westeros. The show follows the struggles of several noble families as they vie for control of the Iron Throne.
With its sprawling cast of characters, intricate plotlines, and stunning visuals, Game of Thrones is a show that captivated audiences around the world during its whole run. This is high-end TV that confirmed the place of HBO in the series landscape.
13
House
8 Seasons
The show with the main character we couldn't possibly hate or love more. House starred Hugh Laurie, as the pain-stricken medical genius that leads a team of doctors in diagnosing the weird and the impossible.
Dr. Gregory House has a story of his own. Addicted to Vicodin and all kinds of pain medication, House can't stop being obnoxious with his partners, and everyone who dares to enter his life. Yes, it's a procedural drama that runs on the same formula all over, but the storyline in the center is pretty damn compelling
12
Seinfeld
9 Seasons
The best TV show ever made (for some), is really about nothing. Seinfeld was able to depict extremely funny situations in 20 minutes without losing the energy and wit that made it so different from its peers. In fact, we can all agree the specific plots that took more than one episode to solve weren't as good, right?
This one depicted the lives of four New Yorkers with a specific appetite to get in each other's lives and make a whole mess out of the mundane. Man-hands, bald women, "too nice," and "too much like me," among others, were some of the reasons why Seinfeld always stayed fresh with its awkward and effective approach to modern comedy.
11
How I Met Your Mother
9 Seasons
This beloved sitcom follows the lives of five friends living in New York City: Ted, Lily, Marshall, Robin, and Barney. The show is narrated by Ted, who is telling the story of how he met his children's mother to them in the future. Along the way, the group goes through all sorts of ups and downs, from falling in love to falling out of it, and everything in between.
How I Met Your Mother is a show that had viewers laughing and crying for 9 seasons. The show's unique structure, with each episode told from the perspective of the narrator, gave it a fresh and innovative feel that kept viewers coming back for more.
Related: TV Mistakes That Made the Final Cut
10
24
9 Seasons
24 was an action show that constantly stepped on the edge of thrillers due to its pace, brought on by the fact that it played in real-time. Each season had 24 episodes, each episode lasted one hour. Thus, each season portrayed the lives of counter-terrorism agents for a whole day. Actually, scratch that, and make that "a terribly unlucky day".
The show always revolved around Jack Bauer (Kiefer Sutherland in the role he landed and never let go of for obvious reasons), a CTU agent who was always trying to save the world from being snatched by ruthless villains. It's one of the few TV shows that gets better and better with each season. Can we say binge-watching as a way of life started with this one?
9
Friends
10 Seasons
Friends is a classic sitcom that follows the lives of six friends living in New York City: Ross, Monica, Chandler, Joey, Rachel, and Phoebe. With its iconic theme song, lovable characters, and relatable storylines, Friends became a cultural phenomenon that still has a devoted fan base to this day.
The show tackled everything from relationships and career struggles to the joys and challenges of adulthood, and it did so with humor and heart. The chemistry between the cast was electric, and each character brought something unique and lovable to the cast. Friends is the kind of show that you can watch over and over and never get tired of, just skip the whole Joey and Rachel thing.
8
Shameless
11 Seasons
This gritty comedy-drama follows the lives of the Gallaghers, a working-class family living on the south side of Chicago. The show is led by the family's patriarch, Frank, an alcoholic and drug-addicted con artist, and his six children who are all struggling to make ends meet and find their place in the world. From the get-go, Shameless pulls no punches, tackling everything from addiction and poverty to mental illness and sexuality with honesty and raw emotion.
The show's large and diverse cast is led by an incredible performance by William H. Macy as Frank, and each character is fully fleshed out and complex. The show is not afraid to go to dark places and tackle difficult subjects, but it is also full of heart and moments of levity. Whether you're a fan of drama or just looking for a show that will pull at your heartstrings, Shameless is a must-see.
7
Modern Family
11 Seasons
Modern Family is a beloved family sitcom that follows the lives of a family that's grown in non-traditional ways, in a sort of mockumentary-style depiction. Over the course of 11 seasons, this unconventional family navigates the ups and downs of life, from marriages and divorces to new babies and career changes.
The show has received critical acclaim for its portrayal of a modern, diverse family, and for its ability to balance heartwarming moments with sharp humor. The talented cast is the main reason for the show's performance.
6
The X-Files
11 Seasons
The horror sci-fi thriller that heavily relied on conspiracy culture The X-Files, is a massive juggernaut of drama television that definitely changed the landscape during the '90s. Sure, it had a lot of The Twilight Zone and The Outer Limits, but with a compelling backbone of a storyline, it managed to be compelling enough to make some of us follow it until the very end.
A couple of films and a revival were no match for the original show that on a weekly basis presented extraordinary mysteries linked to extraterrestrial intelligence, supernatural events, and political conspiracies. Its leads Fox Mulder and Dana Scully are two of the best characters in modern television.
Related: The Best TV Cartoons with More Than 10 Seasons